Raising A Rukus VR
Two twins. One dog.
Jonas and Amy are a pair of bickering twins who are swept into a wild adventure with a mix of kid-friendly action, dinosaurs, loving parents and an adorable, charismatic dog named Rukus.
I was brought on to help art direct and guide the teams to design massive VR environments. One of my favorite aspects of this project type is putting on my science cap and figuring out why things look the way they do. It's the investigative nature of the research that fascinates me so much; allowing me to be curious and ask questions of how flora and fauna work in these fantasy worlds. How do their appearance reflect their adaptation? Science nerd alert.

Director | Josh Wassung
Executive Producer | Robert Stromberg
Art Direction, Illustration | Edmund Liang
Production | The Third Floor & VRC
Once Upon A Time
We begin on a peaceful and snowy morning.
Designing Home & Surroundings
To make it easier on the teams when building assets, I create detailed sketches to help reduce ambiguity and vagueness.
The Home Backyard (Transition)
Cel-Animation No.1
At times, I'll make cel-animations to explain moments more clearly.
Cel-Animation No.2
I find this method to be extremely helpful when conveying more elaborate scenes.
3D Animation
Other times, I'll create rough 3D animations to further supplement the cel-animations.
Plant Index To Establish Scale
The World's Plants
The two white specs you see at either ends are the kids! Just imagine the scale of these plants!
Shoreline
Plants here show off their vibrant colors due to the types of minerals from the lake water.
Native Species of Lake Shoreline
The Ravine
The Ravine
Long ago, this area was carved out by water erosion. What remains of it now is a deep river bed.
Stegosaurus Arch
Lit by a path of fireflies, this area begins the graveyard of the dinosaurs as we descend deeper down the world.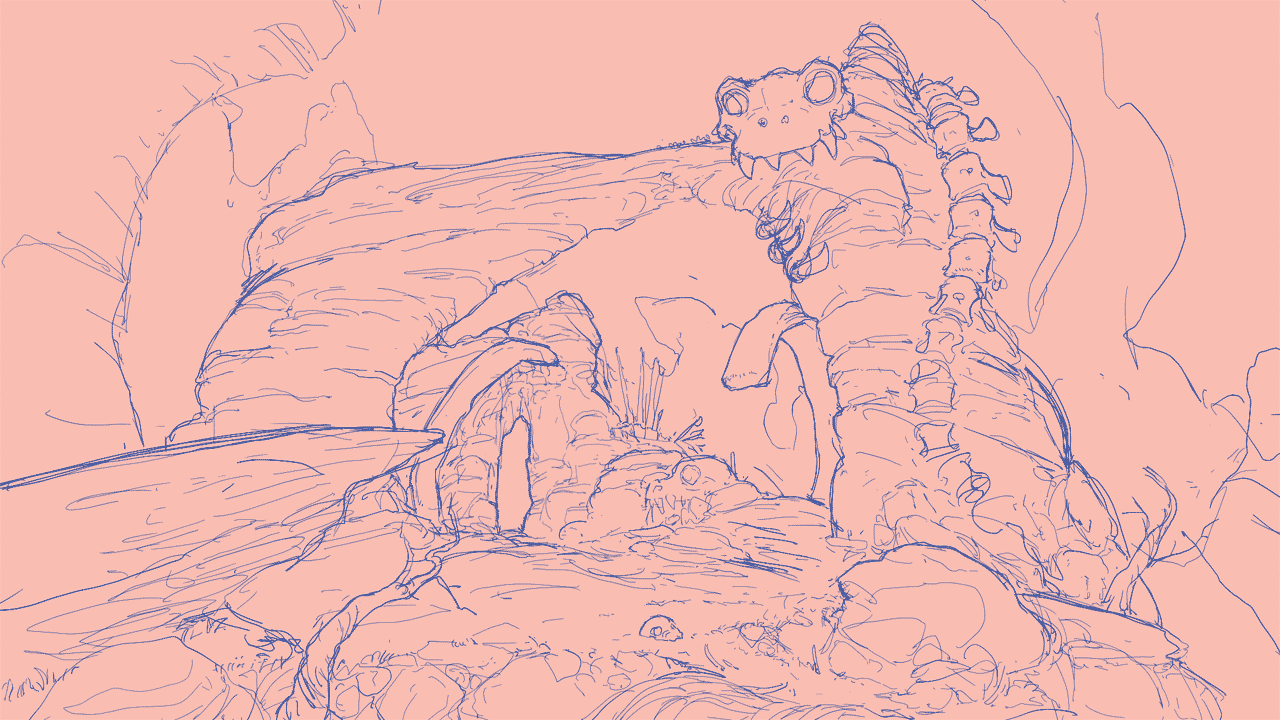 Design Process
Working with the 3D team to layout the space before drawing over it.
Native Species of Stegosaurus Arch
The Lava Toilet & Dead Forest
Lava Toilet
Rivers of magma underneath the surface has caused the collapse of the ground, revealing a swirling lake of lava below.
Dead Forest
Everything in this area has been scorched by the heat, if not the lava itself, leaving only the skeletal remains of life.
Native Species of Dead Forest
The Crystal Caves
Crystal Caves
Covering the walls are colonies of bioluminescent life — giving the cave a calming, blue-green glow.
Native Species of Crystal Caves
The Crystal Falls
Crystal Falls
Years and years of mineral deposits pouring from the cave entrance has created this wondrous cascading waterfall.
Checking For Harmony
To see if the assets visually work together, I'll sometimes paint little vignettes of them to test if they harmonize.
Native Species of Crystal Falls
The Finale
Sinking Island
One of the most dangerous and aggressive areas of the world due its highly active volcanic activities.
Home of the Brontosaurus
A towering beast amongst steam awaits.